Being able to write songs is an exceptional skill to have. While many of the most famous musicians of all time also wrote the lyrics to their own songs a lot of the time, there have also been some brilliant lyricists who weren't notable musicians in their own right.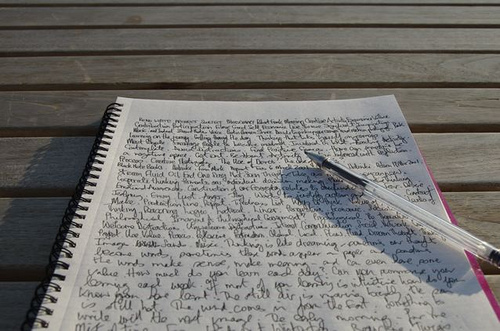 Bernie Taupin would be one such example. Although he has released his own records both as a solo artist and as a member of a group, he is more widely known for being the writer behind some of Elton John's biggest and best known tracks. Likewise, the Stock Aitken Waterman partnership in the late 80's and early 90's weren't known for their own abilities with an instrument or a mic, but even if the types of songs they produced weren't your cup of tea, it is impossible to argue against their success.
Being a songwriter was once a very lucrative career, particularly if you had a talent for doing it and were tone deaf yourself and wouldn't ever make it as a musician in your own right.
Are things the same today?
Modern Song Writing
In terms of the opportunities song writing can present, you could argue these are still applicable today. However, the way the music industry has changed, with the majority of music purchases now made digitally rather than in physical form, has had a knock on effect on songwriters. We also need to consider that many people simply aren't actually buying music anymore.
If you're a musician who writes all your own material and you own it all, then you probably aren't affected too much, as you'll get paid when your record sells anyway. However, musicians and songwriters find themselves in the same boat when it comes to problems caused by music streaming platforms and YouTube.
Are Songwriters Missing Out?
An article published on the BBC News website looks at whether songwriters can survive and thrive in the new digital landscape, giving the example of advertising revenues from Spotify and YouTube not being enough to ensure everyone sees a fair return. When the ad revenues are paid out, it's likely the record company and the artists are the ones getting paid first. Many observers might think that is fair enough, but when the songwriter is essentially the foundation of the song, this surely needs to be rebalanced.
Another example given, and something else that the BBC looked at earlier this year, is the case of Kevin Kadish, who co-wrote Meghan Trainor's smash hit All About That Bass with the artist herself, but received under $6,000 despite the song being streamed 178 million times. At time of writing, the video for the song had over 1.1 billion YouTube views, too.
Will Artists Taking a Stand Help?
Global superstars are starting to look closer at how streaming services affect them. Taylor Swift and Adele are just two artists who have taken a stand, and while they are primarily protecting themselves there is no question the consequences of their actions will lead to more money for songwriters, too. However, songwriters can still wait as long as two years before they see any money from hit songs, and although this timeframe is likely to reduce in the near future, songwriters will still find themselves waiting behind the record label and artist for payment, depending on the terms of their publishing agreement.
The answer for songwriters? Keep writing, but make sure you sign a publishing deal with a label or artist that will stand up for themselves, and by extension, yourself.
For budding songwriters there are also several websites where you can sell your song lyrics.