If you had to name famous guitar makers, Fender would probably be at the top of your list. When you look at the list of guitarists who have played Fender guitars, you can see why we all love and cherish its guitar models. Guitar greats like Jimi Hendrix and Ritchie Blackmore have helped to establish the brand as one of the most loved of all times. 
Fender's iconic guitar model, Stratocaster, celebrated its 60th anniversary last year and the Fender Visitor Center in the US commemorated the occasion by displaying some unique early incarnations of the instrument. But the collection of famous guitars isn't the only cool fact about the Fender factory. Here are five other great facts you should know. 
1.You Can Build Your Own Guitar
The amazing part about the Visitor Center is the fact that you could build your own guitar! Think in terms of Build-A-Bear shop but for guitars. There is quite a bit of optimisation available as well, as you can pick from different neck, body and coil options, for instance.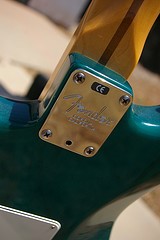 Fender made in Corona, California. Image courtesy of Wendkuni, CC BY 2.0, via Flickr. 
2. Still the Main Manufacturing Plant
Considering that manufacturing in the world has mainly moved from the Western nations to countries with cheaper labour, such as China and other Asian countries, it is surprising to hear how the Fender guitars are still mainly manufactured under the Californian sun. 
The company also takes great pride in the artisan work that goes behind every single guitar they make. The factory in California employs around 300 to 400 people who are all passionate about the work they do.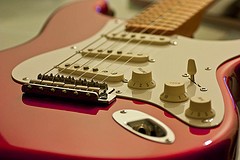 Eric Johnson Stratocaster model.Image courtesy of Jarod Carruthers, CC BY 2.0, via Flickr. 
3.You Can See the Actual Process
If you've ever wondered how guitars are made, the Fender Factory will answer your questions. The place runs a regular tour (although it is a good idea to book in advance) where you can see the artisans crafting Fender guitars. 
It is quite a process from picking the right wood pieces and working the metal parts to create the unique Fender sound. If you can't make the tour, below is a great Youtube video from the Corona factory.  
4. Special Guitars
The Factory also has a special display of the most famous guitars, with the displayed items changing occasionally. Last year, you had the opportunity to see a special Stratocasters display with guitars played by famous guitarists.
The Fender Visitor Center also has one of the first Stratocasters on display. The guitar is currently valued at $100,000, so you don't want to be playing that without a good insurance.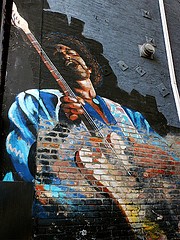 Graffiti of the legendary Jimi Hendrix, one of the most well known guitaristto have rocked Fender guitars. Image courtesy of Doran, CC BY 2.0, via Flickr. 
5. Cool Californian Location
The Fender Visitor Center is located in Corona, California and there is nothing cooler than the Californian sun combined with some amazing guitar riffs. If you are ever in need of a crazy holiday location, then you definitely want to pay Corona a visit. There's even a creepy Coffin Creek Haunted Village to entertain – or perhaps haunt – you! 
It is great to know that craftsmanship is still valued. Guitar music is as much about the feeling as it is about skill and picking a guitar that's been crafted with love adds that extra bit of something to your playing. Fender has been making amazing guitars that produce some of the coolest guitar riffs and we hope they will be in the business for a long time!