My name is Andy Sheppard and I'm a musician, composer, saxophone player. I've been playing the saxophone for a really long time, 37 years, and I'm currently an ECM recording artist. I've probably recorded for nearly all the major record labels. I've worked with numerous musicians. Mainly jazz musicians, because I guess that's what I am, a jazz musician. But, having said that, you know, I've played with everyone from Ringo Starr, Fela Kuti, Eric Clapton, Joan Armatrading. You know, all these kind of people that are household names. But you know, I've also played an awful lot with wonderful musicians like Carla Bley, Steve Swallow, George Russell. I mean, you name it. It's been so far, a long career. I've recorded for Blue Note, for Island, for Verve, PolyGram. You know, numerous records. Big band records, duos. I did a lot records with for an independent label called Provocateur. You know, I've been on many records as a side man playing with famous jazz musicians and in my own name, there's 20 or so CD's.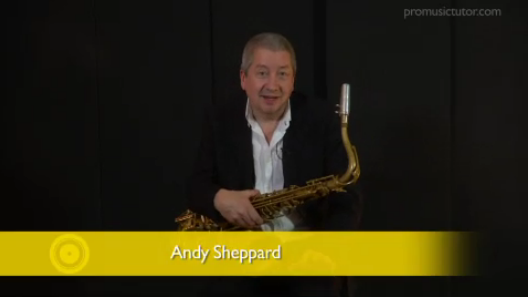 I guess the first person to really turn me on to the saxophone is Coltrane. And I'm still constantly amazed by a wonderful player in music, John Coltrane. I've kind of learnt my music by osmosis really. That is to say by playing with musicians, their music rubs off on you and you seem to grow. It's a natural process because I'm completely self-taught which you know, has turned into a bonus. Initially I always felt kind of disadvantaged in that I didn't have a solid kind of harmonic knowledge background, you know from a schooling situation. But actually, I think it's an advantage in the fullness of time, the whole thing about being a jazz musician, or a creative musician is that you're an artist and you know, the art is kind of within you. You don't need to study that. I mean you study yourself; you don't need to go to college or get a piece of paper to say you can. So, being self-taught has turned into a bonus for me and I'm still learning. You don't stop learning. That's the wonderful thing about music and life, don't stop.
It's kind of weird, but I'm beginning to feel that I maybe do inspire other musicians, certainly other young saxophone players because they look at my career and I guess that gives them some hope that they can make a career out of this strange thing of blowing down a brass tube. Part of what I do is improvise, you know. I have to improvise. You kind of know what you're going to go right for a second, then left, then right right. But after then, you know, you might go up, or you might go down. I think that's why it's the kind of music I play is the music I love; this jazz thing, improvising and interaction between musicians, for people, for the audience. It's always refreshing, always changing, always new. I think the most important thing to say to anyone starting out or playing an instrument or being serious about playing music is that what you put in is what you get out. If you put a lot of love and effort and concentration and hard work into developing, you know, your voice on an instrument, it will eventually pay you back. I think that goes for anything in life really. If you put the right energy in, it equals what you put in is kind of what you get out.
I think it's really important for a musician to take their job seriously, you know, because it is a kind of job, you know and you've got a lot of responsibility with making music because you're dealing with emotions and the world needs picking up a little. I'm always developing new projects, new bands. I'm always writing new music. I think that's an essential for any musician. You have to keep reinventing yourself and you have to keep playing. I think it's just as important to play on a big stage in front of thousands of people, as it is to play in front of a handful of people. When I started playing, I'd be learning things, and then I'd get kind of stuck but I kept working, and working, and working and then suddenly, a piece of information would kind of drop down on me from the sky and I'd suddenly understand something that I didn't understand before. I'm convinced it's because I've been working hard. If you play the saxophone, get the thing out, get up against the wall, and start practising.